Ways you can volunteer with ACTS.
We are building teams to mobilize in different parts of the country to respond when needed. When you join our network, you are simply saying that you are willing to help. Once a disaster strikes, we establish a base camp and email our volunteers. Take a look at some of the roles we need help filling, but don't limit it to these! If you have the heart to serve, and are willing to go, please don't hesitate to reach out!
Sign Up to Volunteer
Base Camp Leader
Locate and establish base camps in the areas affected by the disaster.
Base Camp Hosts
We need people and/or churches to hose our teams as they go in and help the community in need.
Team Leader
Mobilize team to various location and be a point of contact for everyone in the field.
Servant Responder
Join an existing team that is already mobilizing.
Logistics
Truck resources to the base camp.
Resource Gatherer
Gather needed items to ship to the disaster areas.
Onsite Cook
With every productive team, a hard-working cook is keeping them going.
Blog/Newsletter Writer
Keep up to date with the ACTS Teams and inform supporters of what we are doing as an organization.
Social Media Manager
Keep our social presence up to date and inform followers of weather updates and possible camp locations.
Website Maintenance
Update the website with current information and links.
Conference Volunteers
When we run a training conference, a lot happens behind the scenes that could use your help!
Prayer Leaders
No matter where you are you can always help through prayer. Email us to be added to the prayer chain or join on Facebook.
Join or host a training conference.
If you have gone through the training and received your certification, you can request your ACTS badge from Marie Ingham at the following address: actsrelief@gmail.com.
What does it take to be trained?
What it takes to equip your church is simply hosting a training conference. A basic conference is 1 1/2 days, but the training can be tailored to meet your needs.
What is offered in the training?
Servant Responder Course
Basic Chaplains Course
Basic Leadership Course
As this ministry is designed to serve in disaster, several churches have also found the trained servants to be very diligent in helps ministry, police and fire chaplains, leadership, and available servants in any time of need.
What happens after your Church is trained?
We need one leader to act as the coordinator of your fellowship. They will:
1. Schedule additional training, as you see fit.
2. Spearhead "helps ministry" for your fellowship.
3. If the LORD leads us to a "Mobilization"
We will contact this coordinator, at that time all necessary information for "Deployment" will be given.
Serve as a trained disaster relief team, to the ministry of the love of Christ.
Practical ways to prepare.
Below are some ways that you can personally prepare for a natural disaster in your own home.
Create a family emergency plan.
Your family may not be together when an emergency happens, so it is important to plan in advance: how you will contact one another; how you will get back together; and what you will do in different situations.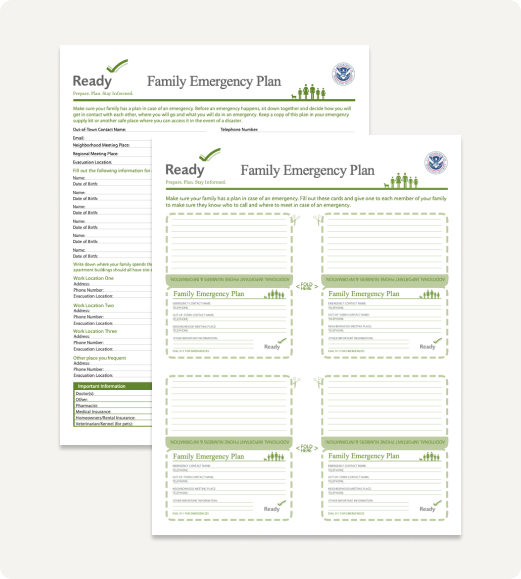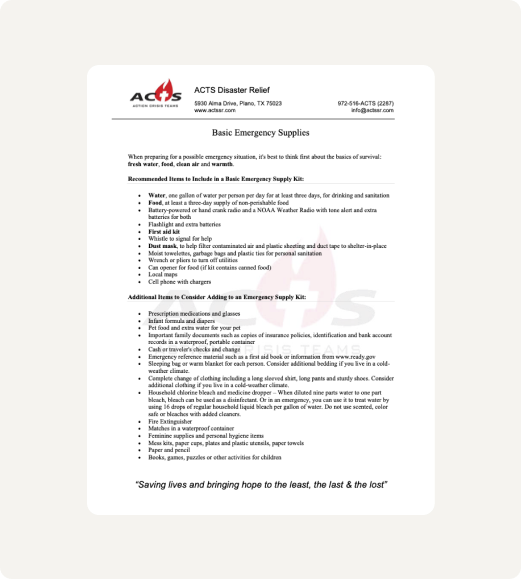 Put together an emergency supply kit.
Local officials and relief workers will be on the scene after a disaster, but they cannot reach everyone immediately.This means having your own food, water, and other supplies in sufficient quantity to last for at least three days. In addition, basic services such as electricity, gas, water, sewage treatment, and telephones may be cut off for days, a week, or even longer.
Be informed about the different types of emergencies that can happen in your area and their appropriate responses.
Learn about the hazards that may strike your community, the risk you face from these hazards, and your community's plan for warning and evacuation.